Hello CREW… 💘                                                         08-27-17
Waited till the last minute, but new Time-Out Sports Bar,
Cocoa is not ready for us this week.  Spoke to a Manager
   they are on  "hold"   for Liquor License and paperwork
     from the City of Cocoa.  Could be ready to go for our
                   Wednesday September 13th event? 

Next  HAPPY HOUR CREW  event

    5:00 PM    Wednesday     Aug. 30, 2017
    Bizzarro's  Italian  Restaurant  
               325 East Merritt Island CS/WY   453-2610
                              Visit: #32      Last:  05-17-17
Plans?  Ideas for the  100th  meet at Ashley's, Sept 6th,
                 are…  IN WORK.   YOU have a thought?
Hurricane "Harvey"  is still DANCING all over Texas!  😉
What?        You missed the Eclipse?      Be patient!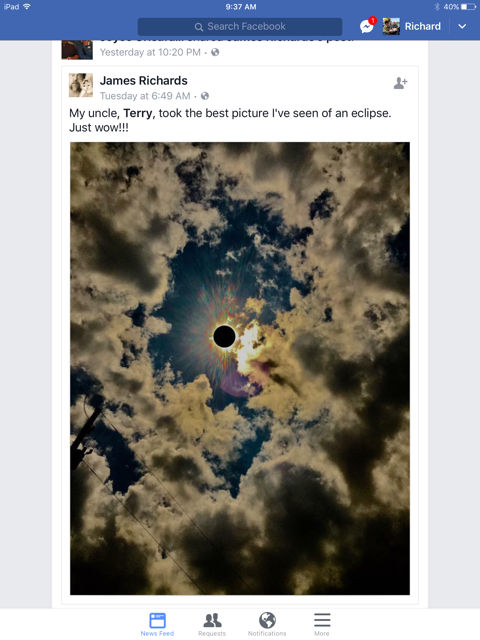 See picture attached from Richard LaRue CHS Grad.
                    Next one to see in USA is April 2024.
Looking for Cocoa, Florida?  😉
    Latitude: 28°23′10″ N      Longitude: 80°44′31″ W

To lengthen thy life, lessen thy meals.  –  Ben Franklin
Sent from my I-teepee,   Ugh!  Pass the pasta and garlic bread!