Hello CREW…💘                                            09-28-17

A very  HAPPY DOZEN ALUMNI  dined at Kelsey's.
        No  CREW  picture taken this week…  😲
  Instead – picture will show you what was ordered!
               Yes,  the Lasagna was THAT good!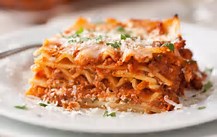 ATTENDEES:
      Harvey Baker, Sandy Mangum, Clark True,
        Steve & Michele Westman, Ann Driskill,
     Gerri Dutcher, Jack Crockett, Gregg Seitner,
       Bill Weinberg, Carole Saxe, Happy Indian. 
                  SERVER:  Holly was excellent!
It was noted…  NOBODY  took a knee during
                             the  Toast To The Tigers!  😉  
What a coincidence!   This week. 😉 
  World Pasta Day Celebration!  Annual event
created by World Pasta Congress – Rome, Italy.
HEY YOU!  
     Don't forget to get your  FLU  shot!  👍 😰
Sept 28, 2017    Ask a Stupid Question Day.
      Speak up, ask all those questions that you
       thought were too stupid or dumb to ask.
                       Unload them today!
 Bald?  What color hair is on your drivers license?

Next event:   Ashley's, Rockledge  Oct B-Day's 
                               Visit: # 101     Last: 09-06-17
If you think education is expensive,
                                  try ignorance.  –  Derek Bok

Sent from my I-teepee, ole Indian never to old to learn.