Hello

CREW… 
       04-28-14
Back from Jamaica  
  520  Pow Wow! 
Still have the munchies!
 NOT!
Seriously,    Had a great time at the Sandals Resort and usually it's No Problem Mon!  But this time a problem.   Still fighting the respiratory
 bug.  Hope to be able to 

    attend next

CREW event.  Wed @ Beef O Brady's M.I.
Thanks to Lois Atkinson, George Reinhart and Clark True 

for the Kelsey's event information & picture.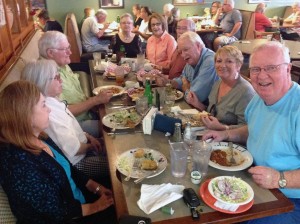 Attendees: L-R  Elma Atkinson, Donna Price, Wilt Wagner, Sandi Brannin, Lois Atkinson, Clark True, Jack Crockett, Gerri Dutcher, Bill Weinberg   
 Special Thanks

to George Reinhart who took picture!
HOT PEPPERS!    Luv the HOT  STUFF!   Check website for the Scoville Ranges.  So far I have tasted my  way up to the Habanero and Scotch Bonnet. 
Hummm Doubt if ole Indian has the nerve to go higher!  lol 
WWW.Pepperscale.com  Next event:    
Beef O Brady's  on  Merritt Island
 

Don't go around saying the world owes you a living.    The world owes you nothing.  It was here first. –  Mark Twain  
Sent from my i-teepee while looking for FAST DIET HANDBOOK!