Hello

CREW… 

  
                                                                          12-31-15
Wishing…   
A  HAPPY – HEALTHY – FUN  NEW YEAR TO ALL!
   Longhorn's was a great way to end 2015!   
              Great fun, good food and 18 Cocoa High Classmates!
                          SERVERS:  Courtney and Jake did a very good job.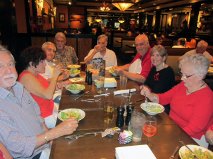 L to R   Harvey Baker, Sandy Mangum, Bill Hardy, Conrad Koch,
        Gregg Seitner, George Reinhart, Amber Forrest, Carole Saxe.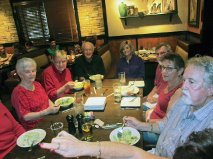 L to R           Ann Driskill, David Alexander, Roy Tharpe,
      Barbara Thomas, Tom McFarland, Ruth Zedalis, Harvey Baker.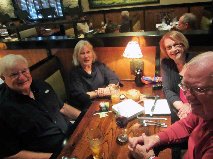 L to R    Wilt Wagner, Donna Price, Lois Atkinson, Bill Weinberg.
Special Thanks!  Lois
Atkinson & George Reinhart for pictures.
  They sure make the emails more interesting! 
As we end 8 years of CHS Alumni CREW activities I want to say
it has been a pleasure to see and share some time with all of you!
      1st New Years Resolution:     Attend More

CREW

Events!
                             Hope YOU will be visiting in  2016!
You'll worry less about what people think about you when
                you realize how seldom they do.    –  David Foster Wallace
Sent from my I-teepee who the heck is that Indian?  😉