Hello CREW…  
                                                 05-30-13
     Vacca Sacra!  Che è stata una grande carne sfera !

Holy Cow!  That was a big meat ball !
                                    Kelsey's Italian in Rockledge.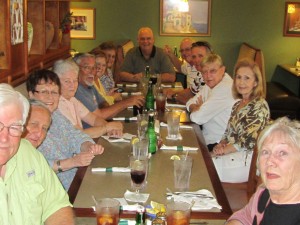 Attendees:    L. to R.     Wilt Wagner,  Shy ole Indian,
   Corinne Bowley, Ann Driskill, Clark True, Gerry Heller,
Mary Black, George Reinhart, Charlie Black, Bill Raines,
          David Alexander, Elma Atkinson, Donna Price.
Taking picture
Lois Atkinson
   Server: 
Alley = sweet!
Hey!  Donna Price would like to contact Winnie Barnes!
                    So, Winnie when you have the time…
All Aboard!      CHS Classmates, taking a Mississippi
     Cruise.   The Titanic Queen River Boat?  That Rocks!
More fun than years on Navy Guided Missile Cruiser! lol
Secret list of Italian Pasta!   Sooooo many kinds!
Your Opinion? 
 Interested in having a
CREW
event at
                      Roberto's Cuban Restaurant Cocoa Beach?
Next week:    June Birthday's @ Ashley's    Visit # 49
3   Corinne Bowley  
5   Bobby  Likon  
8    Jerry  Smith
                    9   John Manuel   12   Myrna  Swindell   14   Judy Scherer              
                      15    Bill Weinberg   17   Carole Saxe   21   Charles Ward
                      30    Dick  Bankhead   30   John Estes  31   Gravel Gertie
R U ???            On the CREW  Birth 
Day list?
        Email me, don't need the year, just Month & Day!
             Guess who?  Someone above is turning 73…
       Wow!  I have some trees in my yard that are not that old!  lol  
The greatest mistake you can make in life is to be
 continually fearing you will make one. – Elbert Hubbard
Sent from my i-teepee using smoke signal checker to avoid mistakes!