Hello CREW…                                                           01-29-15
Malibu's…    A dozen Classmates just having fun!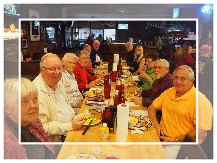 Attendees:  L-R       Mary Laycock,   Bill Weinberg,
Sherri Gentry, David Alexander, Gregg Seitner,
George Reinhart, Steve & Michelle Westman,
Corinne Bowley, Clark True, Ole BTB.
SERVER:  Loren was very efficient.
Thanks to Lois Atkinson for the picture.
Stuff, Seal & Stamp!    Latest scoop from Ann Driskill
Mosquito Beaters Reunion event in March  (info later)
       but before this happens volunteers are need to meet
in Cocoa and prepare the mail out invitations.
Wednesday    10 AM    February 11, 2015 
CHS Alumni…  have helped in the past and it goes
quickly when us  "Ole Tigers"  help in this effort!
                      Ugh!  Ole Indian will be there, will you?
This is Outstanding!  Rec'd from Alice Barron, Thanks!
Musical jukebox from 1960 – 2013
http://thenostalgiamachine.com/index.html
R U  Nomophobic?   66% of the population suffer from
Nomophobia the fear of being without their phone.
Feb B-Day's:   1  Bill Hardy   1  Jimmy Pitts   1  Glenda Nelson
5  Charlie Black   6  Ty Epling   11  Brenda Graves
13  Gloria Tinker   15  Ben Young   15  Caroline Fulford
16  Gerry Heller   19  Dexter Beck   20  Ann Driskill
25  Nancy Grothe         29  Jack Sparrow
Next event:     Ashley's   in Rockledge
    Visit: #69     Last:  01-07-15
Love all, trust a few, do wrong to none.
                                                      – William Shakespeare
Sent from my I-teepee while trying not to do anything wrong!