Hello CREW…  💘                                                  08-31-17
Whoo-Rah!  16 HAPPY CHS Classmates  at Bizzarro's.
         The  CREW  attendance was soooo big,  "Anna"
          locked the doors to keep other folks out!  😁
    A really special turnout of Classmates who enjoyed
                the company and tasty Italian dinning.
     If you were not there you missed an amazing time.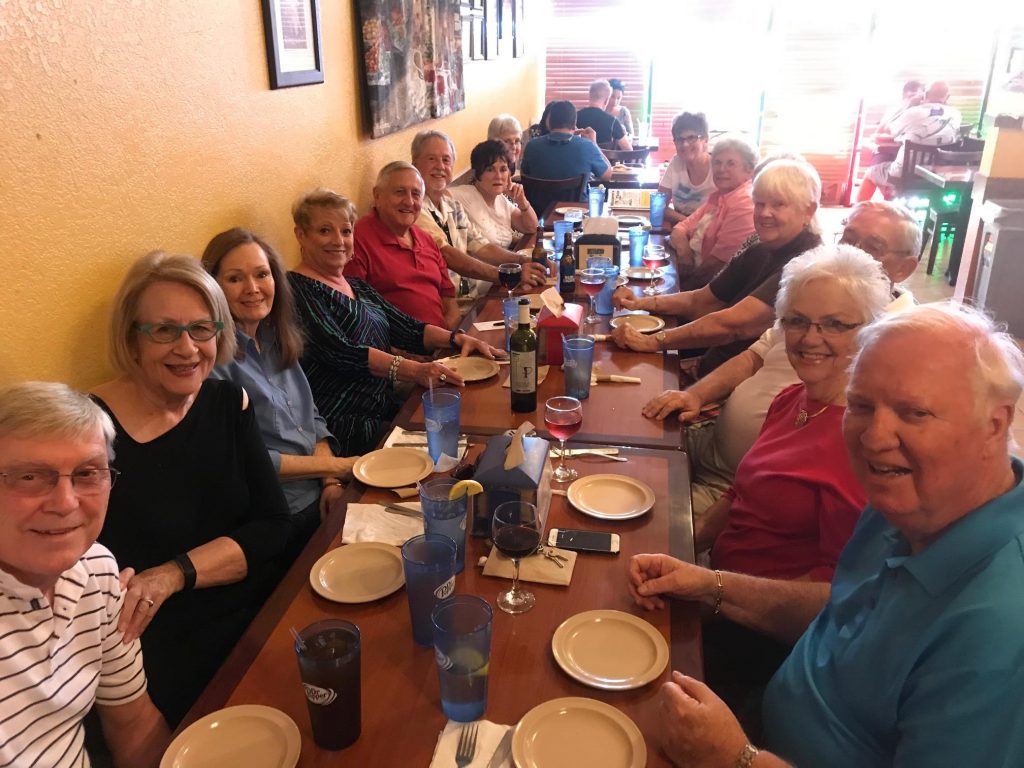 ATTENDEES:  L – R    David Alexander, Lois Atkinson,
  Helen Granger, Gerri Dutcher, Indian, Harvey Baker,
     Sandy Mangum, Sharon Tyler, Judy McAllister,
         Laura Minot, Judy Denny, Mary Laycock,
            Clark True, Carole Saxe, Bill Weinberg.
               SERVER:  "Anna"  was so special! 
      THANK YOU:   George Reinhart for the picture!
MARK YOUR CALENDAR  –  Don't Miss It!
 This will be "HUGE". 😲   Wednesday Sept 6th
will mark  100  HAPPY HOUR CREW  visit's to Ashley's.
      Be sure to attend.    Fun with your Classmates,
delicious food,  SUPER SERVICE – Christie,  door prizes.
  This will be a special event to enjoy and remember.
Note:   Expecting a  RECORD  Classmate attendance.
              Arrive  BEFORE  5 PM  to be part of this event. 
While enjoying the good times  WE  (CHS Alumni)  are
  having,  please take a minute to reflect on the sad 
   events in Texas.  Wishing all those folks safe and
                   speedy recovery in the future.
GOOD NEWS!   Alumni friend,  Roger Greek  has
  recovered COMPLETELY from recent medical issues! 

Next Event:     100th Visit to Ashley's in Rockledge
                                     Visit: # 100      Last:  08-02-17 
Somewhere, something incredible
                          is waiting to be known.  – Carl Sagan
Sent from my I-teepee,   Hummm  tell me if you find out?  😉