Hello CREW… 
                                                                            07-30-15 
   Bone Fish Grill…  3rd visit.        Could  have been better?
Ugh!  Some good but some not so good.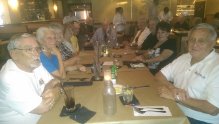 Attendees:  L – R   Clark True, Sherri Gentry, Joyce Kubler,
           Gerry Heller, Bill Raines, Jack Crockett, Myrna Swindell,
                       Harvey Baker, Sandy Mangum,  an Indian.
   Not in picture.    Dexter & Linda Beck.    SERVERS:  Jennifer & GiGi.
               Special thanks to Gerri Dutcher
 for the pictures!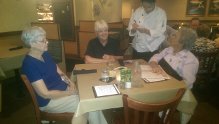 More…  L – R     Sharon,  Mary Laycock,  Laura  ( Mary and her guests. )
How Much?   

  Wow!    

Pumpkin Center

 in Cocoa Beach.
                   Remember that home?   Sold for almost  

5 Million.
THIS  IS  GONNA  BE  GOOD! 
As noted below, the next visit to Home Base,  ASHLEY'S
     will mark the 75th event.   We meet there the first
 Wednesday of every month.    (

75 months… do the math!

)
WELL…  Chair Person Corinne Bowley and her Indian Assistant
   will be plotting & scheming to make this one  

SPECIAL!

  
       Watch for details in Sunday's HAPPY HOUR CREW email.
So mark your calendars for  5PM  

Wed

August 5th,
             this will be 
a 

CREW

event you won't want to miss.  
Next event:     
Ashley's –       

CREW

Aug Birthday Party
  Visit:  # 75                  Last:  07-01-15
The only easy day was yesterday.   – US Navy Seals Motto 
Sent from my I-teepee,  yesterday was easy????  lol