Hello CREW… 💘                                                              06-15-17
                You  likeee  Chinese  food?     Veeeeely good! 
14 and 1/2  Alumni & Friends attended this FUN event.
          (one is P.G.)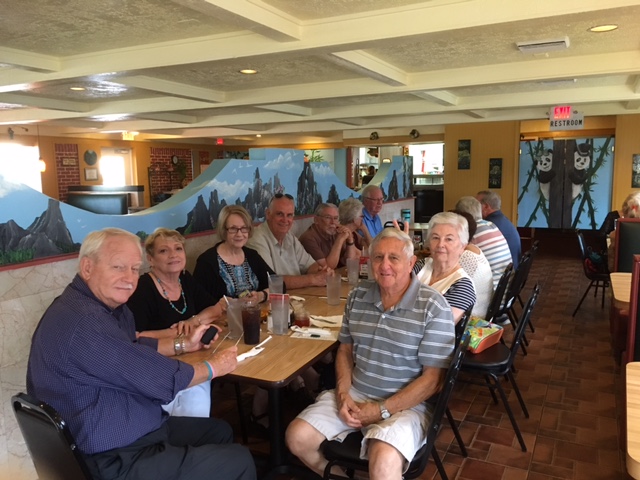 ATTENDEES:  
               L – R   Jack Crockett, Gerri Dutcher, Lois Atkinson,
        George Reinhart, Clark True, Carole Saxe, Bill Weinberg,
                   Tom Newbern, Harvey Baker, Sandy Mangum
                    An empty Chair?  S.G. off reading her emails?  
         Ann Driskill,   Indian waiting for Hot n Sour Soup. mmmm! 
                             SERVER:  Emily (P.G.)  was Excellent!
Special Thanks!     Sherri 🌹 Gentry  for a very good picture! 

Trying to lose weight?        Check your  BMI  here.
Whose Ur Daddy?    –  Fathers Day this Sunday – June 18th
Next Launch: 🚀   Space X  Falcon 9    2:10 PM   Saturday
June 15th   Smile 😁 Power Day    Love may make the
        world go round but, a smile makes it a happy place.
     A smile is a powerful thing.  Best of all, it's contagious.
             Hysterical?  Update:  Finally S.G. read a CREW email!  😉
Next event:      Kelsey's Italian in Rockledge
                                Visit: # 16     Last: 3-29-17
I couldn't wait for success, so I went ahead without it.
                                                                  –  Jonathan Winters
Sent from my I-teepee, Success a warm, dry teepee w/ice box.