Hello CREW… 💘                                                  01-04-18
 9 CHS Alumni   started 2018 with fun at Ashley's!
These loyal, Classmates braved the COLD weather
    and attended our 104th  CREW Birthday Party. 
 Cheesecake was so good!  😋 YOU should have been there.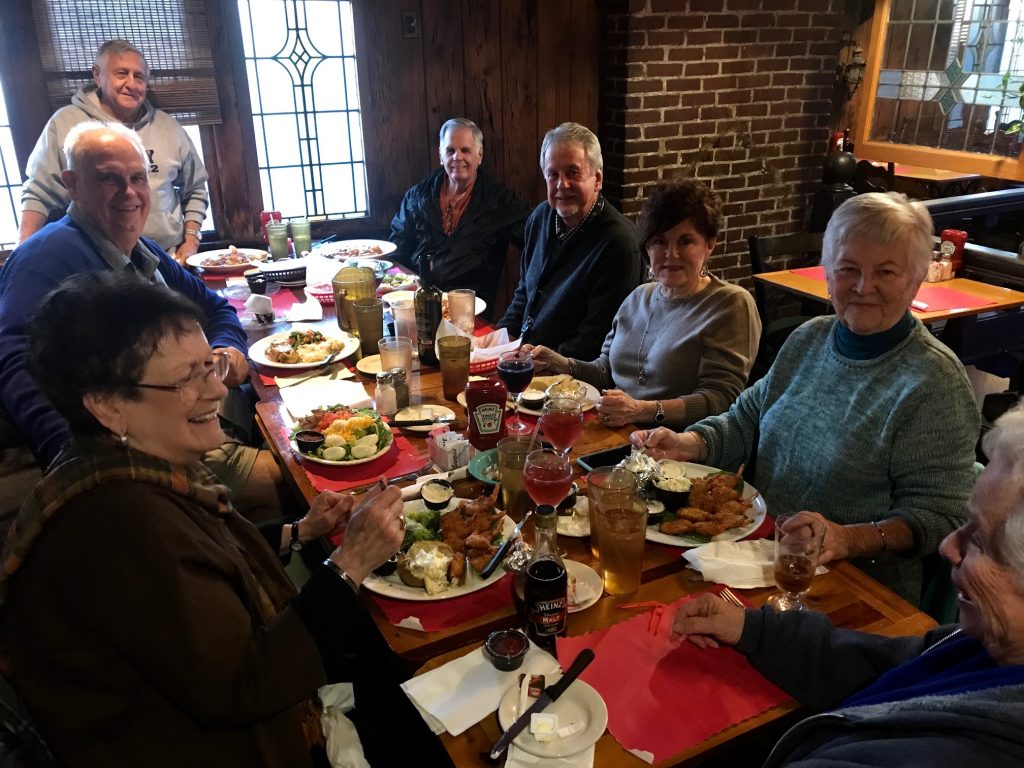 Corinne Bowley, George Reinhart,
                      an Indian, Gregg Seitner, Harvey Baker,
            Sandy Mangum, Ann Driskill, Priscilla Firkins.
                  Thanks Lois 🌹 Atkinson for the picture!
                          SERVER:  Christi  is  THE BEST!
     She has been an Honorary CHS Classmate since 2013.
Missing?   Have not seen these folks since 2017!
Janet & Jim, Bill W, Gerri D, David A, Carole S, Clark T,
      Jack C, Roy T,  Myrna S,  Sherri G, Mary L, Gerry H, 
         Tom N, Tom M, Ruth Z, Helen G, Jack & Linda Y,
 Tom & Gloria T, Susan E, Sandy B, Conrad & Midge K,
        Wilt W, Donna P,  and  YOU!  just to name a few. 
               Gee, hope we will see them in 2018. 😲          
Brrrrr,   Snow in Tallahassee, low 30's in Cocoa.
                                High today in low 40's.  😎
January 4th               National Spaghetti Day
                           There are over 600 shapes of pasta.
                      Ever heard of D
italini, Gigli, or Rotini?
Next event:      Florida Seafood Cocoa Beach
                                    Visit: # 31       Last: 10-11-17
Hope smiles from the threshold of the year to come,
   whispering  "it will be happier".  – Alfred Tennyson
Sent from my I-teepee, as part of the CREW, it makes me happy!